Blog
Posted by functionalhealthminute on January 18th, 2018
The beauty of functional medicine is it puts your health journey in your hands. The curse of functional medicine is that, compared to popping a pill, eating healthy takes more time, which can feel stressful. Enter the Instant Pot, a relatively new kitchen appliance that is simple to use, makes it easy to stick to a whole foods diet, and takes a lot of stress out of cooking when your schedule is hectic.
What makes the Instant Pot a good functional medicine tool?
The Instant Pot's success is in its multiple features and that it produces consistent results. The Instant Pot sautés, foolproof pressure cooks, slow cooks, makes yogurt, functions as a rice cooker, and quickly makes bone broths.
It is conducive to big batch meals that will create nutritious leftovers for a few days.
Here are some ways the Instant Pot can help you save time in the kitchen without sacrificing nutrition:
Cooks frozen meats. How many times have you forgotten to put the meat out to thaw for dinner? You can put your frozen meat in the Instant Pot and still have stew for dinner.
Cuts down on dishwashing. The Instant Pot allows you to do multiple things in one pot, cutting down on dirty pots and pans. For instance, you can sauté the onions and brown the meat in the same pot you cook your stew in. Additionally, you can cook in Pyrex bowls inside the Instant Pot, which can then be stored in the fridge and used as a lunch container.
Removes the stress of timing. Once you put your meal in the Instant Pot, you press a button for how long it needs to cook and then you can walk away. Not only will it shut itself off, it will also keep food warm for up to 10 hours. It makes reliable hard boiled eggs, and some people even crack their raw eggs into a bowl before cooking for a quick and easy egg salad that doesn't require peeling egg shells.
Takes the complexity out of pressure cooking. The Instant Pot's most popular feature is pressure cooking, which radically shortens cooking times. Best of all, it uses a foolproof design so you don't have to worry about blowing up your kitchen.
It's a great slow cooker. One of the most satisfying dinners is the one you make in the morning and it's waiting hot for you in the evening. In addition to cooking quickly, the Instant Pot is a great slow cooker, and you can brown the meat in the same pot.
Makes dairy-free yogurt. Yogurt is a delicious and convenient snack that is hard to give up when you go dairy-free. Dairy-free yogurts are expensive and filled with thickening gums, which are irritating and immune reactive for many people. The Instant Pot is a great dairy-free yogurt maker, using gelatin or chia as a thickener. You will need to order a high-quality brand of coconut milk however, for a good end result.
Easy squash and root veggie cooking. Peeling and chopping squash and root veggies can be a real deterrent to including them in your diet. No worries, just toss them in the Instant Pot whole and then peel, seed, and chop them after they're cooked. Cooking more fragile vegetables such as broccoli, however, is best left to the stove top steam basket to avoid overcooking.
These are just a few of the ways the Instant Pot can be a part of a functional medicine protocol to help you manage a chronic health disorder. Don't be intimidated by it — the learning curve is quick and you'll soon be able to intuit how to use it. The internet abounds with tips, recipes, and general enthusiasm to get you up to speed.
Blog
Posted by functionalhealthminute on January 12th, 2018
As we continue to learn how important healthy gut bacteria is for the brain and immune system, interest in cultivating a rich and diverse "gut microbiome" grows. One important tool in this quest are spore-based probiotic supplements. "Spore" is derived from the word "seed," and spore-based probiotics are a hardy delivery system that germinate in the small intestine and help you colonize your gut with more healthy bacteria.
Modern humans face many challenges to developing and maintaining healthy gut bacteria. In fact, studies of primitive people who live much like our hunter gatherer ancestors did show their guts have about 50 percent more diversity in gut bacteria than the average American. Researchers are finding this lack of microbiome diversity plays a role in many chronic health and brain disorders, including depression and autoimmunity.
Low-fiber, junk food diets, antibiotic overuse, chlorinated water, heavy environmental toxin and pollution loads, chronic stress, alcohol, and various medications all play a role in reducing the diversity and amount of beneficial gut bacteria. As a result, opportunistic and infectious "bad" gut bacteria are able to more easily conquer the gut. This weakens the gut lining, increases inflammation, and promotes brain and mood disorders.
There are many ways we can build a healthy and diverse population of gut bacteria. The most important is to eat a whole foods diet that is predominantly vegetables and fruits. It's important to vary the kind of produce you eat regularly. It's also helpful to include cultured and fermented foods and take probiotics. Also, avoid drugs such as antibiotics, NSAIDs, and heartburn medication as much as possible.
Given the challenges the modern gut faces, it's not a bad idea to make probiotics a part of your routine. This is where spore-based probiotics come in. What makes spore-based probiotics special?
The survive the acidic environment of the stomach on their way to the intestines.
They resist breakdown by digestive enzymes.
They are heat stable and don't need to be stored in the refrigerator.
Some spores are antibiotic-resistant, which means you can take while taking antibiotics.
Once in the small intestine, spore-based probiotics can germinate if you provide the right environment with plenty of plant fiber.
Spore probiotics and healthy gut bacteria in general can help improve your health in several ways. They improve the health and integrity of the lining of the small intestine. This lining contains not only bacteria but also plenty of immune cells to defend the bloodstream from bad bacteria, yeast, toxins, undigested foods, and other pathogens that can trigger inflammation if they make their way through the gut lining into the bloodstream. This is called leaky gut.
For instance, one strain of spore-based probiotic, bacillus coagulans, has been well studied for its beneficial effect on irritable bowel syndrome (IBS) and Crohn's disease. Bacillus coagulans produces lactic acid, which has been shown to help protect the gut and boost immune resistance to viruses. It has also been shown to lower cholesterol and reduce pain and stiffness associated with arthritis.
Ask my office for more information on how to support healthy gut bacteria and help eradicate bad bacteria to improve immune health.
Blog
Posted by functionalhealthminute on January 5th, 2018
A new investigation reveals the sugar industry successfully blamed fat for heart disease using skewed science, when sugar is the main culprit. This corporate deceit triggered more than 50 years of a nutritional "low-fat" policy that helped make Americans the fattest and most chronically ill population on the planet, thanks to diets high in sugars and processed carbohydrates. Sadly, it's an ideology still touted today in many doctors' offices.
Using tactics similar to those of the tobacco industry, the sugar industry funded research that downplayed the role of sugar consumption in raising levels of fat in the blood and did not disclose findings that linked sugar with heart disease.
The industry's own animal studies showed high-sugar diets increased triglyceride levels, thus raising the risk of heart attack and stroke, and also increased the risk of bladder cancer. They pulled the plug on the study before it could be completed.
The Washington DC-based Sugar Association said the study was stopped because it was over budget and coincided with restructuring of the Sugar Research Foundation. It also said scientific recommendations to limit sugar to no more than 10 percent of daily calories are "out of bounds."
Had the study been completed, it could have led to further research and policies that put the welfare of American citizens — not the sugar and processed food industries — first. This could have saved millions of Americans and their families from the heartbreak and devastation of sugar-related diseases such as obesity, diabetes, heart disease, and Alzheimer's.
We can see another telling example in a 2018 European study that shows a significant correlation between the amount of processed foods people keep in their homes and obesity and related diseases. Though Americans and Europeans have, surprisingly, eaten roughly the same number of calories over the decades, significantly more Americans than Europeans are obese and ill thanks to corrupt marketing and nutritional policy.
While the policies of the last several decades have steadily made Americans fatter and sicker, they have also been fuel for the multi-billion-dollar weight loss industry that arose in response to the collective weight gain. Sugar content simply replaced fat calories in fat-free foods dominating the shelves.
The trouble with foods high in sugar and processed carbs (which are essentially sugar once ingested) is not only do they make people fatter, but they also trigger a hormonal cascade that increases sugar cravings while turning off the satiety hormones so that one feels constantly hungry. Diets have been shown to fail most people in sustained weight loss and even trigger eating disorders.
The low-fat, high-carb diet sends you on a downward spiral that ends with a foundation for chronic disease based on high inflammation, accelerated brain degeneration, and metabolic imbalances.
In functional medicine, we see myriad chronic disorders that can be significantly ameliorated or even reversed simply by stabilizing blood sugar and saying goodbye to the Standard American Diet (SAD) in favor of a whole foods diet.
Ask my office for advice on the best diet for your chronic health condition.
Blog
Posted by functionalhealthminute on December 22nd, 2017
We're learning what a vital role good gut bacteria play in immune health, brain health, mood, and, of course, gut health. We also know that the best way to beef up your good gut bacteria is through eating lots of different kinds of vegetables and fruits every day. But researchers have discovered yet another way to promote healthy gut bacteria: Regular exercise.
Our digestive tract is home to trillions of gut bacteria that weigh about three to four pounds all together, and are made up of over a 1,000 different species and 5,000 strains. Our body depends on these gut bacteria to:
Metabolize nutrients
Protect the intestinal wall
Produce vitamin K and short chain fatty acids (SCFA), which are important for immune health
Maintain health of the digestive tract
Regulate immunity
Prevent inflammation
Promote good brain health and function
As our understanding of healthy gut bacteria evolves, so does the information on how to cultivate your own "microbiome" while inhibiting overgrowth of "bad" bacteria that are infectious and inflammatory. Initially, fermented foods and probiotics were thought to be the main recourse.
Then we learned eating a diet comprised primarily of vegetables and fruits and continually changing up the produce you eat is a great way to develop a rich and diverse gut bacteria population.
Now, scientists have used both a mouse study and a human study to show regular exercise, independent of diet or other factors, also promotes healthy gut bacteria.
In the first study, researchers transplanted fecal material from both exercised and sedentary mice into mice with sterile guts. The activity level of the mice receiving the transplants clearly mirrored that of their donors, showing that the kind of gut bacteria we have plays a role in how inclined we are to be sedentary or active.
The exercised mice recipients also showed more bacteria that produce butyrate, a short-chain fatty acid (SCFA) that promotes healthy intestinal cells, reduces inflammation, and increases energy. They also were more resistant to ulcerative colitis.
In the second study, researchers tracked the composition of gut bacteria in 18 lean and 14 obese adults as they transitioned from a sedentary lifestyle, to an active one, and then back to a sedentary one. Their exercise routine consisted of 30 to 60 minutes of cardiovascular exercise three times a week for six weeks. Their diets remained the same.
They found that exercise raised levels of SCFAs and then declined again as the subjects became sedentary. A rise in SCFAs means concentrations of good gut bacteria increased. The lean participants showed more dramatic increases of SCFAs than obese ones, and more diverse ratios of bacteria, suggesting obese people respond differently to exercise. Nevertheless, increases happened in both populations.
As our knowledge of gut bacteria, functional medicine, and the human body continues to evolve, it nevertheless circles back to some age-old pearls of wisdom: Eat your vegetables and exercise.
Blog
Posted by functionalhealthminute on December 15th, 2017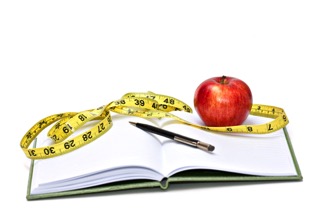 If you want to ensure success in managing Hashimoto's hypothyroidism with the autoimmune paleo (AIP) diet, studies show keeping a food diary can help with your success sticking to the diet. We know this from weight loss studies, in which those who kept a food diary lost 30 to 50 percent more weightthan those who didn't. If you're working to manage Hashimoto's hypothyroidism, the overriding goal is to tame your autoimmune thyroid condition, not lose weight, however the dietary changes that poses can be challenging. Luckily you don't have to go hungry though on the AIP diet!
Keeping a food diary keeps you honest
It's easy to think you are eating one way when the truth is actually quite different. It's amazing how we can hide behavior from ourselves. Keeping track of what you eat not only keeps it real, it also gives you clues if you experience a flare of your Hashimoto's hypothyroidism symptoms. Maybe you experienced cross contamination at a restaurant, or that nibble of an immune reactive food was worse than you thought.
Keeping a food diary for weight loss
With a food diary, knowing you have to record what you eat is proven motivation to stick to the AIP diet. That dessert with gluten or dairy loses appeal when you have to add it your log, knowing it may very well trigger a Hashimoto's autoimmune flare. Conversely, writing down all the safe foods you ate is a great way to bolster motivation and give yourself a pat on the back.
It also helps to record timing, location, and mood with your meals and snacks. You may notice waiting too long between meals predisposes you to go off your AIP diet, that a particular person or situation triggers sugar cravings, or that you feel brain fog or depression after a certain food.
Keeping a food diary for Hashimoto's and other autoimmune conditions
Food journals aren't just for losing weight. The dramatic dietary and lifestyle changes a chronic health condition such as Hashimoto's hypothyroidism requires means giving up some favorite comfort foods, such as gluten and dairy. Other autoimmune diseases such as multiple sclerosis, psoriasis, rheumatoid arthritis, and lupus also respond to dietary changes. Recording your diet and symptoms both helps with compliance and shows which foods flare your autoimmunity. This is especially important in the reintroduction phase. For instance, you may be gluten-free and dairy-free, but you notice your Hashimoto's hypothyroidism symptoms flare when you eat eggs.
Keeping a food journal to find food sensitivities
A food diary is an excellent companion to the reintroduction phase of the AIP diet. After you have eliminated common triggers such as grains, dairy, eggs, soy, and sweeteners for a number of weeks, you reintroduce each food one at a time every 48 to 72 hours and see whether you react, whether it is a thyroid flare or other reactions. It is not recommended to reintroduce gluten given the studied links between Hashimoto's and gluten. Dairy is also not recommended because it cross reacts with gluten and is immune reactive for so many Hashimoto's patients.
Ask my office about tips for keeping a food journal, managing Hashimoto's hypothyroidism, and implementing the AIP diet.
Blog
Posted by functionalhealthminute on December 15th, 2017
We've long been pitched canola's health benefits. After all, Whole Foods uses it in all their prepared foods and many vegetarian and vegan products proudly promote it as a feature ingredient. But when scientists, who had shown the brain benefits of olive oil in mice, decided to run the same studies with canola oil, they uncovered a darker truth: Canola oil worsens memory and promotes amyloid plaques, a hallmark Alzheimer's symptom.
In the olive oil study, researchers gave mice with Alzheimer's Disease a diet enriched with extra-virgin olive oil and found that compared to the control group, the mice experienced improvements in memory as well as a reduction in amyloid plaques and phosphorylated tau, which creates the neurofibrillary tangles that degenerate the brain in Alzheimer's.
They replicated the study with canola oil, one of the cheapest and most widely used oils in the world, to see what effects it might have on the brain.
The control group ate a normal diet while the study group was fed the equivalent of two tablespoons a day of canola oil.
After 12 months, researchers observed the following in the canola oil mice:
They weighed significantly more than the control group.
They suffered impairments in working memory.
They had greatly reduced levels of a beneficial form of amyloid beta (amyloid beta 1-40). Amyloid beta 1-40 acts as a buffer to the damaging amyloid beta 1-42. When amyloid beta 1-40 goes down, it leaves the 1-42 form unchecked to degenerate the brain.
They showed reduced connectivity between neurons in the brain. Synapses are areas of neurons through which they communicate with one another, playing a vital role in memory formation and retrieval. The drop in amyloid beta 1-40 caused extensive synapse injury.
The scientists plan to conduct a follow-up study to determine how soon neuron damage begins to happen after regular consumption of canola oil, whether it impacts tau phosphorylation, and whether canola oil promotes other neurodegenerative diseases in addition to Alzheimer's.
What to eat instead of canola oil
When you eat out or buy processed and packaged foods, it's difficult to find foods that don't contain canola oil, soybean oil, or processed vegetable oils, none of which are healthy for the brain. It's especially important to avoid hydrogenated or partially hydrogenated oils, which have also been linked with memory loss.
The brain is made up primarily of fat, which means the fats you eat help determine the structure of your neurons and how well they are able to communicate with one another. For instance, hydrogenated fats have been shown to make cell membranes more rigid and less able to function properly.
Instead of industrially processed vegetable oils, use extra virgin olive oil, avocado oil, coconut oil, and ghee. Ask my office for more advice.
Blog
Posted by functionalhealthminute on December 8th, 2017
Ours is a tricky culture in which to raise a child. We idolize thinness, shame the fat, yet live in a society that constantly begs — if not harasses — us to over indulge in sugary, fattening foods. Also, thanks to busy working parents, many kids are left to their own devices when it comes to meals and it's no surprise they go for junk food and sodas. As a result, about 20 percent of America's children are now obese and rates of type 2 diabetes among children are on the rise.
Children who are obese are more likely to be bullied. Research shows that not only does bullying impact a child's mental health and self-esteem, it also further promotes obesity. The bullied kid eats more and is further sedentary in an attempt to cope with the painful emotions of being bullied.
The way children are spoken to, or in front of, by doctors and by their parents, as well as teased by family members, can also further promote obesity, according to research.
In essence, many people unconsciously believe that an overweight person does not recognize they are overweight and that telling them will address the problem and make it go away. As it turns out, this has the opposite effect of worsening the situation among children who are typically acutely aware and ashamed of their weight.
The effects of being bullied by peers and teased or shamed by family members last well into adulthood. For women especially, being teased and bullied about their weight as teens is associated with binge eating, poor body image, and obesity later in life.
About two-thirds of overweight children report being bullied by their peers and about a third are teased by family members. Because so many already experience enormous pressure and disapproval, it doesn't help the overweight child to point out their weight.
Instead, caregivers and doctors should be careful with their language, focus on health instead of weight, and use positive reinforcement instead of shaming, guilt, blame, or stigmatizing.
Some ideas include:
Opt for neutral words such as "weight" or "body mass index" instead of the more emotionally charged words "obese" or "fat."
Remember the whole child and not just the weight. Praise them for all that is positive about them so their self-esteem is buoyed when a challenging topic is discussed.
When talking about nutrition and exercise, focus on health and not size or weight.
Make small changes slowly, such as introducing one new vegetable at a time, clearing the kitchen of sugary drinks and junk foods, and introducing exercise in small, regular amounts.
And, most importantly, have the whole family adopt healthy habits regardless of their weight. In the end, thin people can be unhealthy too and good habits in kids start with good habits in parents.
Blog
Posted by functionalhealthminute on December 1st, 2017
Because women make up about 75 percent of autoimmune disease diagnoses, this means many sufferers of chronic illness are also raising children. It's common for women to feel disappointed or inferior because they are not the kind of mom they had envisioned. But the perfect mom is an unattainable myth, and it's possible your illness is even cultivating good qualities in your children. In fact, some of the world's greatest functional medicine researchers and innovators who have helped countless numbers of people discovered their passion because of their mother's autoimmune illnesses.
A chronic autoimmune illness means days when energy is low or non-existent, or when brain fog, pain, anxiety, or depression rule. Regular life may include long treks to other cities or states to see a doctor who understands your condition and can help. Your diet is restricted and the house is void of junk food and sodas. Weekends may be devoted to batch cooking meals for the week and your autoimmune disease may require you to delegate chores to your kids. But none of this has to stand in the way of loving your kids and it may even make them better people.
A recent New York Times article explored the ways in which having a chronic autoimmune illness can benefit your children:
Patience. Everything moves more slowly when you're chronically ill. Gratifications are delayed and trips to the doctor's office long. When your kids are in tow, this can teach them patience, something most kids struggle with.
Flexibility. Having an autoimmune disease sometimes means canceling well laid plans because you are having a flare. Though disappointing, this prepares children for the inevitable snafus of life.
Self-sufficiency. Children who have everything done for them suffer when they strike out on their own. The child of an autoimmune mom has long been learning how to do their laundry, make their meals, walk the dog, clean the house, and so on. Adulthood won't seem like such an ugly shock as a result. Though they may complain, this self-sufficiency is also a wonderful confidence builder.
Consideration. Children are egocentric by design. Having a mom with a chronic illness teaches them about the universality of human suffering and that sometimes we are all weaker than we'd like to be and need help.
Self-care. Autoimmunity means seizing the day when you feel good and retreating and resting when you feel bad. This teaches children the importance of a healthy diet, sleep, and other often ignored facets of good health. If you have a partner who helps and supports you, they also benefit from seeing that partnership in action.
Compassion. By seeing someone they love suffer, your children learn compassion for suffering in all people, including themselves. They may also be more likely to see grumpiness or impatience in others as symptoms of a possible illness.
Emotions. Living with a chronic illness is hard work. Sometimes the fatigue, pain, or disappointment can send us into an emotional tailspin, making it impossible to put on a happy face. Seeing a parent express their emotions around suffering can help children be more ok with their own bouts of emotional turmoil.
Blog
Posted by functionalhealthminute on November 24th, 2017
If medical marijuana has done anything, it has been to educate us about our own endocannibinoid system (ECS) — a system of receptors on cells that play a role in inflammation, appetite, pain, mood, memory, and even cancer prevention. These receptors have come to light because they respond to compounds in cannabis, or marijuana.
A functioning ECS, which is vital to good health, produces its own cannibinoids and doesn't need them from cannabis. For instance, the cannabinoid anandamide is so powerful researchers call it the "bliss molecule" because of its role in happiness and higher thought processes.
However, researchers have discovered some people have a endocannibinoid deficiency in compounds such as anandamide. This can lead to chronic pain disorders, depression, irritable bowel syndrome, anxiety, and more serious disorders. Some suggest this deficiency may be genetic.
It's believed an ECS deficiency explains why cannabis is medicinal for some people. Cannabis contains more than 100 different cannabinoids, including THC, which produces the psychoactive effect cannabis is most known for. Cannabis also contains cannibidiol (CBD) and terpenes. These compounds are not psychoactive.
CBD has come to be recognized as the compound responsible for many of the medicinal effects of cannabis. Terpenes are the compounds that give cannabis its distinctive aroma are also medicinal.
Controversy exists around whether CBD and terpenes are therapeutic individually, or whether these compounds work better synergistically in a whole plant form. There is also controversy over whether CBD from industrial hemp, a non-psychoactive form of cannabis, is as effective as CBD from marijuana, which has higher THC levels.
Boosting your endocannibinoid system naturally
Psychoactive cannabis and its constituents, such as CBD, is legal in only about half of the states in the US. CBD from industrial help is more widely available. Outside of the US it is legal in a few countries, decriminalized in a number, and strictly illegal in others.
Because the ECS produces its own cannibinoids, it is possible to boost the activity of this system without using cannabis. Following are some suggestions on how to do this:
Avoid alcohol. The stress and inflammation caused by regularly drinking alcohol can exhaust the ECS. Preserve its integrity by avoiding this health-sapping spirit.
Get bodywork. Research shows that bodywork such as a chiropractic adjustment, massage, or acupuncture can more than double anandamide, the "bliss" cannabinoid.
Eat lots of leafy greens. Leafy greens contain a terpene that activate cannabinoid receptors and can help combat inflammation and autoimmunity.
Eat more omega-3 essential fatty acids. Some researchers say an omega-3 deficiency will cause the ECS to not function properly. Make sure you get plenty of omega 3 in your diet (and not too much omega 6), or supplement with fish, algae, emu, or hemp oils.
Exercise. Some researchers believe the "high" from exercise is caused by increased ECS activity. Just be careful not to overdo it or make it stressful, which can deplete the ECS.
Blog
Posted by functionalhealthminute on November 18th, 2017
If you are counting carbs to stabilize your blood sugar, lower inflammation, balance hormones, or lose weight, experts say looking at carbohydrate density is a more important strategy. Carbohydrate density measures how many carbohydrates are present per 100 grams of food. Low carb density foods don't raise your risk of chronic disease.
Research shows eliminating dense carbohydrates from your diet improves health, prevents disease, and can even improve periodontal disease.
While many diets focus on how many calories or how many grams of carbohydrates you should eat per day, the carb density diet instead focuses on how many grams of carbohydrates are in a food once you subtract the fiber.
Ideally, you only want to eat foods under 23 percent carb density. More importantly, avoid carb dense foods.
Foods with low carb density include meats, vegetables, fruits, and whole nuts.
High density carbs include flours, sugars, breads, chips, rice cakes, granola bars, French fries, popcorn, and other fast and processed foods.
In a nutshell, if it has been processed, it's going to be more carb dense.
Carb density in foods
Foods with low carb density contain the carbohydrates within cell walls. In these foods, carb density won't go much beyond 23 percent.
In foods that are carb dense, however, such as flours, sugars, and processed grains, modern processing breaks apart cell walls so that carbs are much more concentrated, abundant, and hit the bloodstream more quickly.
Why high carb dense foods make us sick and fat
The human body was not designed to eat processed foods in which carbs and sugars have been busted out of their cells, concentrated, and able to quickly raise blood sugar.
Carb dense foods overwhelm the body's cells with too much glucose. This causes cells to become resistant to the hormones insulin and leptin, both of which play a role in blood sugar regulation.
Insulin and leptin resistance in turn promote obesity, inflammation, accelerated brain degeneration, heart disease, diabetes, autoimmunity, and hormonal imbalances — in essence, the foundation to the many chronic diseases of western civilization.
Why regular diets don't work and the kinds of food you eat matters most
These days, plenty of research has demonstrated why diets don't work in the long run for so many people. Calorie counting, exercising more but going hungry, extreme diets — these approaches may work in the short term but they pit the individual against primal survival mechanisms and can be metabolically and psychologically damaging.
Although opting for a diet that is made up of healthy meats, fats, vegetables, fruits, and nuts may seem severe initially, it quickly adjusts hormonal responses to food. This reduces cravings, boosts energy, and reverses inflammation — the diet makes you feel so good you no longer feel deprived. You may also find processed foods make you feel terrible, so they lose their appeal.
Ask my office for more advice on how you can manage and even reverse chronic health conditions through diet, lifestyle, and functional medicine protocols.